Boat fires and explosions have injured countless people and have resulted in many deaths.  A primary cause of boat fires and explosions is that fuel, such as gasoline, is present in confined and often poorly ventilated conditions.  Gasoline seepage or spillage from engines also presents a high risk of explosion.
As with refueling automobiles, care should be taken to ensure that gasoline is not spilled onto a boat, and that there is not an open source of flames or sparks (such those from smoking).
Additionally, many boats use propane, kerosene, or other gases for cooking or other purposes.  These fuels provide an additional risk of fire and explosion if not handled correctly or if stored in defective containers. If you or a loved one recently suffered harm in a boat fire or explosion in Phoenix, contact the boat fire and explosion attorneys at Begam Marks & Traulsen, P.A. today to discuss your legal options.
Burn Injuries from Boating Accidents
Boating accident burn injuries can occur as the result of a number of conditions:
Fuel may not be stored safely, and when vapors come into contact with a spark or open flame, a sudden explosion may occur
Certain areas under the boat may be susceptible to the build-up of dangerous vapors, which even in the ordinary course of boating operations can be dangerous
Smoking causing the flammable materials to ignite, which can be especially dangerous when lit cigarettes are left in ashtrays below deck and the boat lurches to one side
The misuse of cooking equipment or other items that require an open flame
The use of cleaning solvents which, when not properly washed, can pose a fire risk.
Often, boats will not be equipped with extinguishers, or guests on the boat may not know where the extinguishers are located.  As with home fires, in some instances people may believe that they can safely put out a fire instead of taking evasive action, such as abandoning the watercraft.
Boat Explosions
Boat explosions can come on suddenly and unexpectedly.  In such cases, passengers will not have any time to take evasive action.  In these cases, burns can be horrific and even fatal.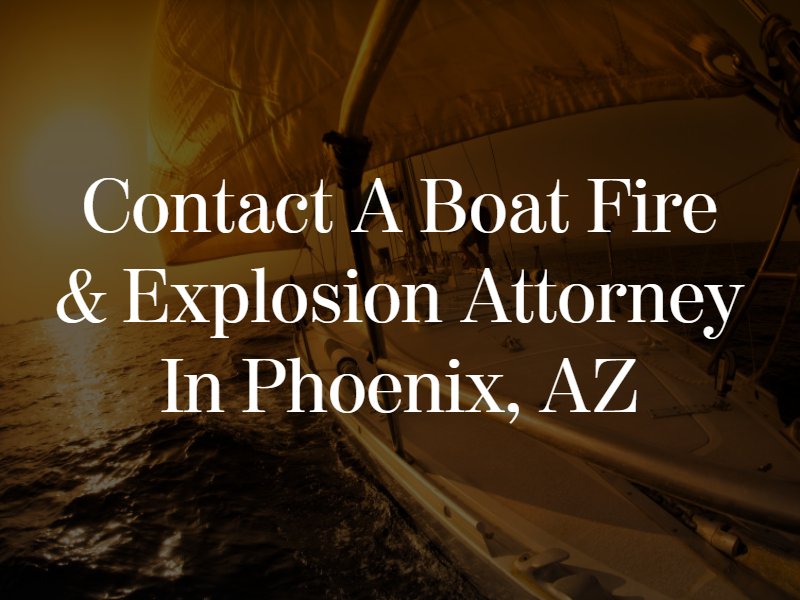 How We Help in Cases of Boat Fires and Explosions
When boat fires or explosions result in injury or death, it's critical to understand all contributing factors of the incident.  Contributing factors often include:
Human error, This may include failing to prevent gasoline from spilling onto a boat, not properly ensuring that fuels are stored correctly, or other matters.
Defective products, including storage containers. In some cases, fuel containers may have become defective; in other cases, a product, including the boat itself may be defective in some way, particularly if there has been damage to the boat.  Boats may also be defective in design, particularly in designs that can lead to a buildup of flammable gases.
We undertake comprehensive investigations of boat accidents, and will often hire accident reconstructionists and experts to help determine all contributing factors that lead to injury and death.  In some cases, such as in the case of a defective boat design, there may be multiple parties at fault, including those responsible for the design, manufacture, and sale of the boat.  Once we understand the factors contributing to the accident, we can then seek compensation from all parties whom we believe to be at fault.
Call Us to Learn How We Can Help You
We accept injury and wrongful death cases on a contingency fee basis, so you will not owe us any fees for our time and effort unless and until we are successful in recovering compensation for you.  We offer a free, no-obligation initial consultation, so that you can meet with our burn injury lawyers and learn how we can help. Contact us today.