The Phoenix motorcycle accident lawyers at Begam Marks & Traulsen, P.A. can help if you've been injured in a motorcycle crash in Arizona. Our motorcycle accident attorneys in Phoenix may be able to help you fight for just compensation for your injuries.
Arizona is a popular destination for bikers. Local and visiting motorcyclists from around the country take to Arizona's roads and canyons for scenic ride. Thousands of others use motorcycles for their daily commutes to and from work. Unfortunately, many motorcyclists in Phoenix get into accidents each year that lead to serious injuries.
If you or a loved one have been injured in a motorcycle accident, contact our motorcycle accident lawyers for assistance with your claim. Whether you have first-party coverage or not, a lawyer can help you pursue fair compensation through all available outlets.
Motorcycle Accident Resources:
When Should I Contact a Phoenix Motorcycle Accident Lawyer?
The state of Arizona imposes certain time limits for filing a lawsuit, called the statute of limitations. This time limit varies depending on the type of action a plaintiff seeks. The statute of limitations for a motorcycle collision is two years from the date in which the accident or serious injury occurred. Failure to file an injury claim within this limit could lead to a motorcycle accident case dismissal, even if another party clearly committed negligence.
For this reason, we recommend contacting our law firm for a free consultation as soon as possible following a motorcycle accident in Phoenix. This will give us plenty of time to identify the parties responsible and demand fair compensation on your behalf for injuries, pain, and intangible losses. Begam Marks & Traulsen, P.A is passionate about helping accident victims protect their rights and providing quality legal services.
What Damages Can I Recover After a Motorcycle Accident?
Arizona law permits victims of motorcycle crashes to claim two main types of damages following an accident: economic and general.
Economic damages provide compensation for the material losses associated with an accident. Examples include medical bills for treatment of severe injuries, lost wages, lost earning capacity, rehabilitation and physical therapy, and the expected costs of future medical treatment related to the accident. These expenses may also include property damage, such as the cost of motorcycle repair or replacement, and loss of earning capacity.
General damages, on the other hand, provide monetary reimbursement for intangible losses. These might include physical pain and suffering, emotional trauma, and any loss in life quality you might suffer as the result of the accident. 
In some motorcycle accident cases, you may seek punitive damages following a crash. These apply to instances of gross negligence and reckless misconduct. An experienced personal injury attorney in Phoenix can help you determine if gross negligence occurred in Arizona and demand punitive damages from the defendant.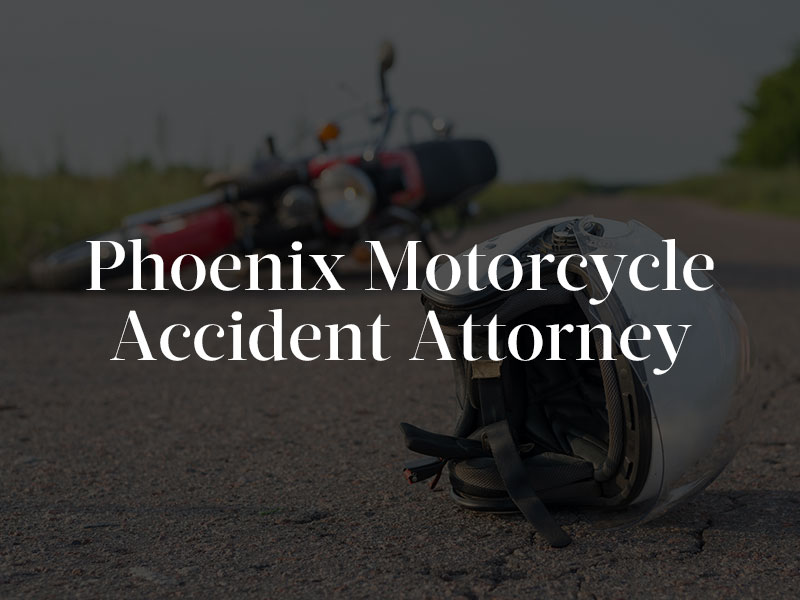 What Should I do After a Motorcycle Accident in Phoenix?
Motorcyclists almost always suffer more serious injuries than passenger vehicle occupants in collisions. Broken bones, head and traumatic brain injuries, spine injuries, lacerations, road rash, and contusions are all common types of motorcyclist injuries. With or without a helmet or other safety equipment, you could suffer a life-changing head or neck injury. Consequently, your injuries could follow you for life. You need an experienced motorcycle crash lawyer in Phoenix to help you fight for fair compensation if you've suffered any of these major injuries in a motorcycle crash in Arizona. Otherwise, an insurance company could take advantage of you.
The state of Arizona currently does not impose any caps on damages you could receive for personal injuries or wrongful death. This means the amount of your injury case compensation award is largely up to the arbitration skills of your attorney. Call a Phoenix motorcycle accident lawyer as soon as possible after a crash in Arizona to help with your motorcycle accident claim. Many attorneys offer free consultations for accident victims looking to explore their rights under the law in Arizona. The sooner you speak to a Phoenix motorcycle accident lawyer, the better your odds are of compiling a strong personal injury claim. Waiting to hire a motorcycle collision lawyer could damage your case if you say the wrong thing to an insurance company or miss an important deadline.
Other priorities that should be at the forefront of your mind after a motorcycle crash include going to the hospital, documenting your damages, and filing an injury claim with the at-fault party's insurance company. Contact our law firm for a more comprehensive breakdown of what to do following a motorcycle accident. We'll give you free counsel during your consultation and work hard to protect your rights and recover the financial compensation you deserve.
Arizona Motorcycle Laws
In addition to regular traffic laws, Arizona has specific laws for motorcycles, particularly regarding safety gear. These include:
Motorists must allow motorcyclists to use a lane.
All motorcyclists must wear eye protection, such as goggles or a transparent face shield, unless their motorcycle has a transparent windshield.
A motorcyclist must not pass another vehicle in the same lane of traffic.
A motorcyclist shall not split traffic lanes.
Motorcyclists will not ride with more than two passengers in traffic. The motorcycle must have proper seating and footrests for these passengers.
Anyone younger than 18 years old must wear a helmet while on a motorcycle in Arizona.
All motorcycles must have rear view mirrors, secure seats, footrests, and headlamps.
All motorcyclists must have a Class M endorsement to operate a motorcycle in Arizona.
These laws are in place to protect all drivers on the road. To avoid crashes in Arizona, our Phoenix motorcycle collision lawyers recommend motorcyclists follow all motorcycle-related laws.
Motorcycle Insurance in Arizona
Arizona law requires all drivers to carry liability insurance, regardless of the type of vehicle. This includes motorcycles to help pay for motorcycle injuries. The state required minimum coverage for a motorcycle includes:
$15,000 bodily injury coverage for collisions involving one person
$30,000 bodily injury coverage for collisions involving two or more people
$10,000 property damage coverage for each accident
The possession of liability insurance does not affect the helmet law that anyone on a motorcycle under the age of 18 must wear a helmet. It also does not affect the law requiring eye protection through protective glasses or a windshield.
There is no requirement for drivers to purchase underinsured or uninsured liability coverage. However, this additional coverage can be helpful when the at-fault party in an accident does not have the correct amount of insurance coverage to cover all costs and damages.
If you have suffered damage in a motorcycle collision and the other party has insufficient insurance, our legal team can help. Schedule a consultation with the Phoenix motorcycle accident attorneys at Begam Marks & Traulsen, P.A., to help learn your best course of action.

What Are the Common Causes of Motorcycle Accidents in Phoenix?
A motorcycle crash may occur in virtually any scenario, but some are more common than others. For example, motorcycle drivers are more likely to experience serious injuries from hitting a pothole or road debris than a passing car. Some of the most common causes of an accident include:
Cut-off collisions. These most commonly occur when a car fails to check a blind spot, colliding into the motorcyclist from the front.
Car door opening in traffic. In town, motorcyclists should use extra caution and ride closely to the middle of the lane. A car door opening in traffic may lead to property damage for a passing vehicle, but could also subsequently seriously injure someone on a motorcycle.
Highway accidents. Simply, motorists do not always keep a close eye out for motorcyclists on highways. These high-speed collisions can lead to permanently disabling or catastrophic injuries.
Poor road conditions. Dangerous or poorly maintained roads can be a factor in motorcycle collisions. 
Most Common Types of Motorcycle Accidents
Knowing the common types of Arizona motorcycle accidents might be able to help you avoid one in the future. It can also help you ascertain liability for your damages if it's too late to prevent a motorcycle crash. Our Phoenix motorcycle accident lawyers have represented clients in their personal injury lawsuits since 1957. In our years of experience, we've come to recognize the most frequent reasons for motorcycle crashes. Our motorcycle collision attorneys also know the most common types of crashes, including:
Collisions with other motor vehicles. The number one "harmful event" in 2016 Arizona motorcycle accidents was "collision with motor vehicle in transport," with 1,783 such crashes. Other passenger vehicle drivers and commercial drivers may not see motorcycles on the roadway, resulting in a high risk of collisions.
Left-hand turn accidents. One of the most common motorcycle crash types is left-turn collisions at intersections. Vehicles making left turns might not watch carefully enough for oncoming motorcyclists, misjudging speed or distance. A driver turning on top of a motorcycle rider could result in a serious T-bone or head-on collision.
Collision with fixed object. Motorcyclists may collide with fixed objects such as guardrails or buildings if the roadway leads to loss of motorcycle control. Loose gravel or a pothole could result in losing control or colliding with fixed objects in the roadway.
Our firm can hire investigators to look into your motorcycle accident case. An investigation could determine the primary cause of the accident, contributing factors, the manner of the collision, the parties involved, and many other facts. Our firm will then work hard to secure you compensation from the at-fault party. We'll build a strong case, be your legal representation during settlement or judgment negotiations, communicate with insurance companies on your behalf, and more.
Arizona Motorcycle Accident Statistics
The Arizona Department of Public Safety (DPS) investigated 814 motorcycle collisions in 2015; 41 of these collisions were fatal. In 2016, the DPS investigated 792 collisions, with 32 of the accidents ending in fatal results. Seventeen of those accidents involved another vehicle. Click to read more about Arizona crash statistics.
The top causes of motorcycle crashes are improper speed and failure to remain within the proper lane and yield right of way. Other accidents can occur when motorists are not alert enough and do not recognize when motorcyclists are on the road. Approximately 40% of motorcycle collisions occur when another vehicle turns left in front of a motorcycle.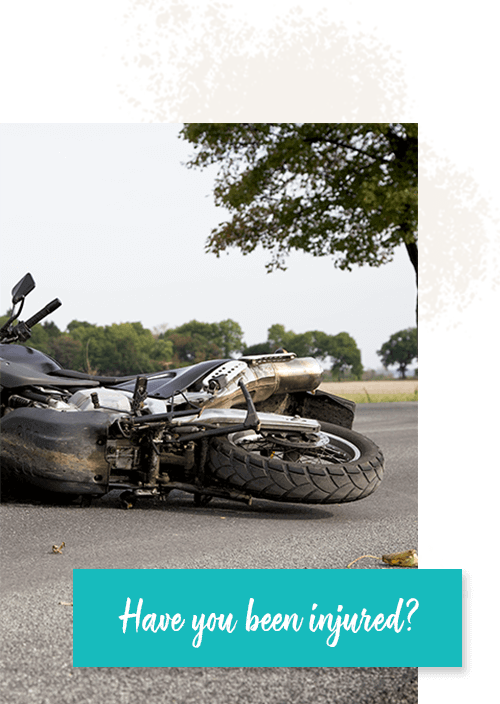 What Road Hazards Are Unique to Arizona?
Arizona can be a wonderful place to enjoy hitting the open road. We have unrivaled scenery, hence motorcyclists come from all over the country to take in all we have to offer. While riding a motorcycle in Arizona can be a rewarding pastime, it also has unique hazards. Here are some of the most common:
Monsoon season. Many people, particularly out-of-towners, don't realize that Arizona has a monsoon season. Torrential rainfall can occur in a matter of moments, catching motorists off guard and causing motorcycle wrecks. This can lead to decreased visibility and the potential for hydroplaning, both of which can prove disastrous to motorcyclists. Additionally, monsoon season also brings the risk of dust storms, which can have similar detrimental effects.
Road debris. Though not unique to Arizona, windstorms can create scattered debris such as branches and rocks. Though these may only pose an inconvenience to a passing motorist, it can be catastrophic to someone riding a motorcycle.
Small animals. Arizona is home to abundant wildlife, which may cross the road at inconvenient times. Without the added protection that cars provide, even a collision with a small animal could lead to serious injuries.
Most Dangerous Places to Bike in Arizona
While the number of motorcycle-related deaths and accidents has decreased over the years, Phoenix is one of the most dangerous cities for cyclists in the United States. In 2009, 25 cyclists died in accidents and more than 1,000 suffered injuries while driving on busy streets. This danger area extends to Mesa and Scottsdale as well.
In 2016, Maricopa County had the highest number of motorcycle crashes, with almost 98,000 accidents; 453 of these crashes resulted in death, and injured motorcyclists counter for over 40,000 people. Pima County had the second highest number of accidents, with over 11,000 accidents, which led to 98 deaths and 6.645 accident injuries.
Driving in any urban area is highly risky for motorcyclists, due to the high concentration of traffic. For Arizona, most crashes occur in urban areas. In 2016, the highest at-risk day for accidents in urban areas was Friday, with most fatal accidents occurring on Saturdays.
Speak to a Motorcycle Accident Attorney in Phoenix, AZ Today
If you or a loved one has recently been involved in a motorcycle crash, the experienced Phoenix motorcycle lawyers of Begam Marks & Traulsen, P.A., can help. Our accident lawyers can help you determine fault and explore your legal options for recourse. Contact us today to schedule your free case evaluation. 
"Just letting you know that I appreciate the hard, good, and great job you have done. It's a pleasure getting to know you and your staff. I appreciate every effort you've made to settle this matter. I've very glad it's done with. Once again, thank you and appreciation to you."  -V.M.