If you or a loved one were seriously injured in a truck collision in Arizona, the Phoenix truck accident lawyers at Begam Marks & Traulsen, P.A. can help. Our accident attorneys will represent you against major Arizona trucking companies and insurers. We know exactly how to handle every aspect of a truck accident case, from investigating the scene of the accident to preparing and taking your case to trial. Call (602) 254-6071 for a free consultation.
Truck Accident Resources:
Common Causes of Truck Accidents
Many accidents are preventable through proper driver attention. Most of the common causes of trucking accidents are due to commercial driver negligence. Other contributing factors include:
Distracted driving
Poor vehicle control
Interruption of traffic flow
Driver became physically impaired
Speeding and other traffic law violations
Driver fatigue and illness
Unfamiliarity with roadway
Poor weather conditions
Improperly loaded vehicles
Maintenance issues
Equipment failure
Lack of training
Because there are so many ways to prevent truck collisions, there is often a cause that can establish liability. Depending on the exact circumstances of the incident, the liable party may be the:
Truck driver
Company that owns or leases the trailer
Truck manufacturer
Trucking company
Truck repair shop
Parties responsible for road maintenance
Shipping company
If you or a loved one has suffered injury due to a truck crash, contact our skilled team of Phoenix truck accident lawyers to help conduct your investigation. We work to gather accurate evidence and find the accountable party for your accident.
Trucking Laws in Arizona
The Federal Motor Carrier Safety Administration (FMCSA) designed its regulations to increase the safety of truck operations on roadways. These federal laws include:
All trucks must have a visible display of their hazardous material markings, USDOT number, and other information.
As of January 1, 2004, truck drivers must follow certain cargo security regulations.
Commercial trucking drivers may not drive more than 60 hours on duty over seven consecutive days or more than 70 hours over eight consecutive days. They must take 34 or more hours off duty before starting a new seven- or eight-day period.
Drivers must maintain a log of time spent behind the wheel. Additional regulations require the use of electronic log devices connected to the vehicle's engine instead of paper logs.
Truck drivers can only operate their vehicles for a maximum of 11 continuous hours in a 14-hour workday. This regulation also requires 10 hours of continuous rest before drivers can get back on the road.
Truck drivers cannot report to work with a blood alcohol level of 0.02 or more. They may only carry alcohol with them if it is part of their cargo.
Commercial truck drivers must take a physical exam every two years.
Truck drivers receive their licenses from their home states after passing skills and knowledge tests. Any drivers handling hazardous materials must complete additional tests.
Some truck accidents can occur due to commercial drivers and companies failing to meet these safety regulations. Finding such violations is key to a successful trucking accident injury case. The Phoenix truck accident attorneys at Begam Marks & Traulsen, P.A. are familiar with these laws and know how to use them in court to help determine liability, so you can, therefore, earn your rightful compensation.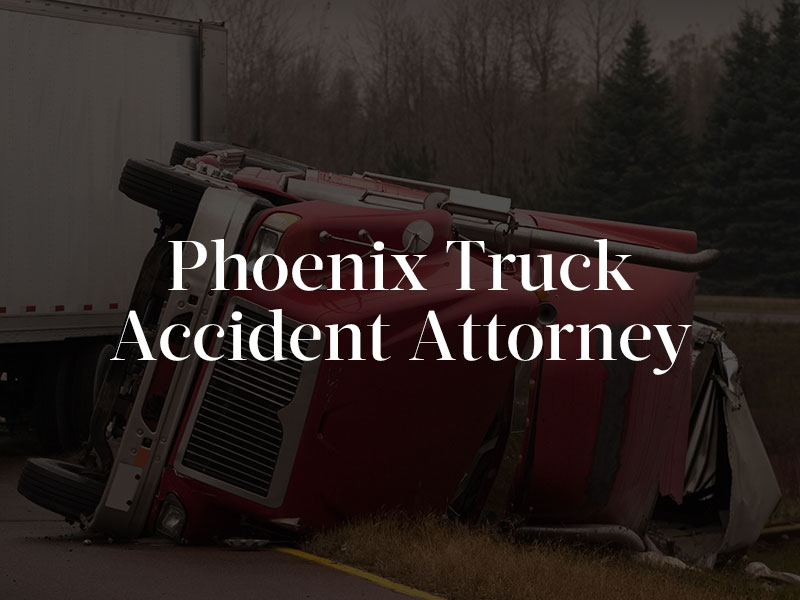 Who Is Liable in a Commercial Truck Accident?
If you have been involved in a collision with a commercial vehicle, the trucking company in charge of the truck and driver may be liable, or legally responsible, for your damages. Commercial truck accidents involve common carriers, or vehicles that deliver goods. It is every common carrier's duty to reasonably provide for the safety of all others on the roadway. Failure to do so through poor hiring and training practices, unsafe fleet vehicles, or reckless truck drivers, resulting in a trucking collision, is negligence. Trucking companies are vicariously liable for the actions of their drivers in Arizona.
Other potential liable parties might include the manufacturer of a commercial vehicle or auto part if a defective car part caused your crash or contributed to your injuries (e.g. a defective airbag or seatbelt). Another driver on the road could also share liability if he or she contributed to the crash. The truck driver could be individually liable if he or she is an independent contractor. The city of Phoenix or another governmental institution could also be liable if a dangerous roadway or element, such as a malfunctioning traffic light, caused the truck accident.
What Damages Can You Recover For a Truck Accident in Arizona?
Truck crash victims may receive three different categories of "damages," or financial recoveries, in a truck accident personal injury claim. First are general damages, or non-economic losses such as physical pain, emotional suffering and distress, mental anguish, and lost enjoyment of life. You might recover for loss of consortium, or loss of a loved one's guidance and companionship, in wrongful death truck accident claims.
Second are special damages: economic losses including past and future medical bills, property damages, lost wages, lost capacity to earn, and other accident-related financial damages. You may also receive payment for funeral and burial expenses as well in wrongful death claims.
Finally, you may receive punitive damages. A court might award additional punitive damages in a truck accident claim if the defendant was particularly negligent or reckless in his/her/its actions. Choosing a personal injury attorney can help you maximize the recovery you receive.
What to Do After a Truck Collision in Arizona
When passenger vehicles are struck by large commercial vehicles, the results are often catastrophic. Yet, due to the high volume of trucks on the road, they happen all too often. In 2016 alone, Arizona recorded 11,992 truck and bus crashes.
After a serious collision with a large truck, call for medical attention, if possible, right away.  There is a high likelihood that someone involved sustained significant injuries.  Even if there appear to be no visible injuries, the size of commercial trucks and the nature of most collisions make a having a medical evaluation a necessity.
Once those involved receive medical attention, it is vital that you speak with a qualified Phoenix trucking accident attorney as soon as possible.  The trucking company of the involved big rig will have their investigators on the scene right away, so it is incredibly important that you do the same. This will allow someone with your best interests in mind to preserve evidence and document exactly what happened. I
f you are able, we would also recommend gathering information about your accident, such as the name of the truck driver and trucking company, photographs of the accident, and medical records for your injuries.
How Do Large Truck Accident Claims Differ From Car Accident Claims?
In many ways, truck accidents are like other types of automobile accidents. However, the large size of commercial trucks can cause much greater injury and damage than other vehicles, creating more substantial stakes in any resulting lawsuits and insurance claims.
The strict federal regulation of commercial trucking adds additional steps and procedures to such cases. The potential for several different parties to hold liability also requires a different approach than car accidents, which usually have only one liable party. Because of these differences, it is critical that you hire an experienced Phoenix truck accident lawyer who can handle your case and the insurance companies.
Why Do You Need an Experienced Phoenix Truck Accident Lawyer?
Commercial trucking accidents are notoriously complex, and, therefore, should not be litigated on your own.

FMCSA Rules and Regulations
Commercial interstate truck drivers and trucking companies must abide by the Federal Motor Carrier Safety Act rules and regulations promulgated by the Federal Motor Carrier Safety Administration (FMCSA).  The FMSCA was established on January 1, 2000 as a separate administration within the Department of Transportation. One of the main purposes of this administration is to develop and enforce regulations concerning certain aspects of interstate regulation, including those required to balance safety with legitimate trucking business.
In investigating accidents involving trucking subject to the these rules and regulations, our trucking attorneys will want to determine whether the driver and company were in compliance with such rules and regulations, and if any non-compliance may have played a role in the accident. A key aspect of investigating these accidents is understanding the federal rules and regulations, including those requiring the keeping of detailed driving logs and maintenance records.
By understanding these aspects, in litigation we are able to subpoena the information that may relate to our client's case, and to take other action that may show non-compliance, which may be critical to prevailing in a lawsuit for our client.
Our Legal Team
We have long represented clients injured in semi and other commercial interstate trucking cases. Firm Senior Partner Richard Traulsen has served as the past national chair of the Trucking Litigation Group of the American Association for Justice (AAJ).  He is also a frequent lecturer at their educational programs on Trucking Litigation. Firm attorneys are also AV® Preeminent™ Peer Review Rated (the highest rating possible) by Martindale-Hubbell® for their legal ability and ethical standards.  In addition, we are the only firm in Arizona to have had two attorneys who were presidents of the American Association for Justice.
Whether you have sustained head injuries, spinal injuries, or broken bones, our firm can help. Contact our firm to work with experienced phoenix truck accident attorneys who can fight for the best possible results for your personal injury case or wrongful death truck accident claim. Call (602) 254-6071 or go online today to learn more about your legal options during a free case review.
"Just wanted to let you know I do appreciate all your work. I think you did a great job. I am more than pleased. But I hope I don't need you again!" -D.H.