If you suffered an injury in Phoenix because of a fall caused by another person or negligent organization, you may be eligible to file a legal claim and receive compensation for your serious injuries. Contact the slip and fall accident attorneys at Begam Marks & Traulsen, P.A., for more information about your case and Arizona slip and fall law.
We know slip and fall accidents can happen anywhere at any time. Whether you are walking down a sidewalk or downstairs, losing your balance is always a possibility. However, many slips and falls are caused by factors outside of the victim's control. Slick surfaces, defective staircases or hand railings, and uneven pavement are just a few of the possible contributing factors.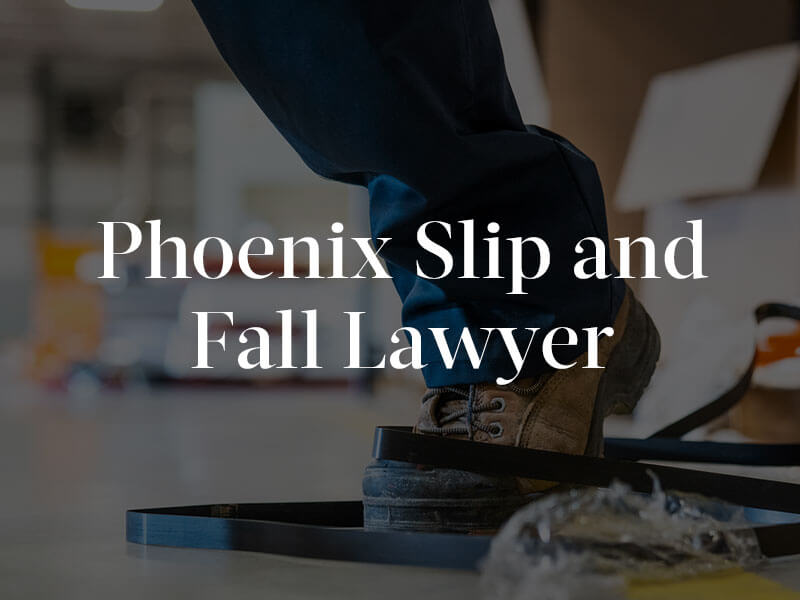 Content
How We Help Victims of Slip and Fall Accidents
Slips and fall accidents can lead to debilitating personal injuries. At Begam Marks & Traulsen, P.A., our Phoenix personal injury attorneys can help.
Begam Marks & Traulsen, P.A., is a stand-out personal injury firm in Phoenix. We're a top option for representation after a serious slip and fall accident because we care about our clients, and we have the case results to prove it. Our law team provides direct, personal contact with each of our Phoenix slip and fall attorneys, so you can have our full attention. We've secured more than $178 million for our clients in the last 15 years alone. We obtain exceptional results through hard work, commitment to the client, and a passion for justice. Here's how hiring us as your slip and fall accident lawyers could help your case:
Talented, experienced Phoenix attorneys dedicating time to your accident case
Skillful claim negotiations with insurance companies
Evidence collection and presentation
A stronger case against a negligent property owner
Help with medical bills and lost wages
Better results than you could get on your own
Hiring just any attorney might not help your case. You must find the right slip and fall lawyer to take on the unique needs and issues your legal claim involves. Begam Marks & Traulsen, P.A., has spent years building a reputation in the Phoenix community and helping injured victims secure compensation for their losses.
Our law firm has everything you or your loved one needs and more in a great team of experienced slip and fall attorneys. Contact the law team of Begam Marks & Traulsen, P.A., for passionate representation for your rights in your slip and fall case.
Premises Liability in Phoenix
A central part of determining who is at fault for a slip and fall injury concerns premises liability, a legal concept that holds property owners responsible for maintaining their properties. The law requires all property owners to keep their properties in a state that keeps visitors reasonably safe. Arizona law requires them to consistently check the property and fix any situation that could be potentially hazardous.
Determining liability can be complicated in certain situations, as property owners are not always responsible for all hazards in a store. Customers can also cause hazardous conditions by spilling a drink or leaving merchandise in aisles, and it is impossible for the owner to fix everything immediately after it occurs.
In situations where a customer causes a hazard, the owner must get rid of the dangerous condition in a reasonable amount of time. For example, if a customer in a store spills some water in one of the aisles, and no one has cleaned up the spill in three hours, and the water causes someone to slip, the owner may likely be responsible. If, on the other hand, a person slips on a spill five minutes after it occurs, the owner may not be responsible because the injury happened so soon after the spill.
The situation is slightly different for trespassers. Though homeowners must follow the same guidelines as store owners, the rules do not apply if a person is trespassing or does not have implied consent. Because the property owner had no way of knowing the trespasser would be on the property, the property owner is not responsible for keeping the person safe under Arizona law. However, they will likely be responsible for personal injuries to child trespassers. To learn more about your unique case, speak with a premises liability lawyer in Phoenix.
Comparative Negligence in Arizona
Arizona courts follow the comparative negligence rule. It gives the court the right to adjust compensation depending on how much each party was at fault. If the court determines you are partly to blame, it will reduce your compensation by the percentage it believes you were at fault. Some of the arguments the defendant may use to prove your partial responsibility include:
You should have known about the dangerous condition.
The owner had clearly marked the dangerous condition.
You were not paying attention.
You were wearing inappropriate footwear for the situation.
What Compensation Can I get from a Slip and Fall Injury Case?
What could your slip and fall injury claim be worth? The damages available to you depend on the severity of your personal injury, the circumstances of the accident, and the methods you choose in seeking restitution. The amount will vary, but the types of damages stay the same in the state of Arizona. You could be eligible for the following damage types as a slip and fall claimant:
Past and future medical expenses. All personal injury claims have the potential to secure compensation for medical care. This can include doctor's appointments, hospital visits, treatments, surgeries, medical devices, and other costs relating to the slip and fall injury.
Lost wages. If you missed work to heal from your fall injuries, you could be eligible for lost wage replacement. You may be able to receive 100% of the income you lost, plus lost wages for lost future earning capacity due to a disabling injury.
Pain and suffering. A slip and fall accident can cause significant physical pain and emotional suffering. A jury may award money damages to compensate these intangible losses, especially in severe injury cases.
For a better idea of what your specific claim could be worth, speak to one of our Phoenix slip and fall lawyers. In general, the more severe your fall injuries, the higher your case's value. Having an attorney negotiate your insurance settlement for you can help maximize the amount you receive for your slip and fall claim.
Arizona Statute of Limitations
In Arizona, you have only a certain amount of time after the incident during which you can file a claim. If you wait too long, your claim is no longer relevant, and you cannot receive compensation. Arizona gives the victim of a slip and fall injury two years to file a personal injury lawsuit.
The moment the two-year time limit begins is different depending on the situation. If you suffered an injury, the countdown begins on the day the injury occurred. If the victim died, however, the statute of limitations begins after the person dies. For example, if the victim fell, suffered an injury, and died from the injury three weeks later, the statute of limitations would begin three weeks after the initial incident. If you were the injured party in a slip and fall accident in Arizona, don't wait to call an attorney; our slip and fall lawyers can help today by scheduling your free consultation.
Where do Slip and Fall Accidents Occur?
A slip and fall accident can happen anywhere, but some locations have seen more falls than others. Places with a higher risk of fall hazards, such as spilled liquids or faulty staircases, are the most dangerous. Learning the most common locations of slips and falls can help you be more cautious. It could also help you understand who may be liable for your damages after a harmful slip and fall accident. A few common locations are as follows:
Cruise ships
Emergency rooms
Grocery stores
Stairs and escalators
Shopping malls
Big box stores (Walmart, Target, Kmart, etc.)
Parking lots
Hospitals and health care centers
Nursing homes
Retail stores
Stadiums
At work
At home
No matter where your recent slip and fall accident occurred, do your case a favor by contacting our Phoenix slip and fall injury attorneys for a consultation. We'll listen to your story, give you advice, and help you with the next step toward compensation. Our law team can investigate your slip and fall, look into potential property owner negligence, talk to eyewitnesses, and take other proactive steps toward financial recovery on your behalf.

What are Common Slip and Fall Injuries?
Slip and fall injuries can range from mild to life-threatening, sometimes requiring life-long medical care. The Centers for Disease Control and Prevention estimate one out of five falls causes serious injury such as broken bones or a head injury. Other common slip and fall injuries include:
Back injuries
Broken bones
Head injuries
Hip fractures
Neck injuries
Shoulder injuries
Soft-tissue injuries
What are the Common Causes of Slip and Fall Accidents?
There are different scenarios that may lead to a slip and fall accident, but many slip and fall accidents are caused by negligence. Common causes of slip and fall incidents include:
Cords
Carpet or flooring hazards
Failure to display a warning sign for an unfixed hazard
Inadequate lighting
Poor lighting
Slippery floors
Wet floors
Contact a Slip and Fall Accident Lawyer in Phoenix Today
After a slip, trip, and fall accident anywhere in Phoenix, immediately get medical attention. Then, call (602) 254-6071 for legal counsel from the law firm of Begam Marks & Traulsen, P.A. We can help you explore your legal options during a free case evaluation. Contact us today.