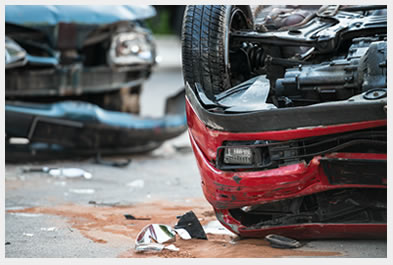 Car accidents are one of the leading causes of death in the United States. Each year in Arizona there are around 127,000 motor vehicle collisions. If you or a loved one suffered a serious injury from a vehicle accident in 2019 or 2020, you need experienced legal representation. The Phoenix car accident lawyers at Begam Marks & Traulsen, P.A., will fight to protect your rights and get you the compensation you deserve. We handle all car accident cases on a contingency fee basis, meaning you don't pay us anything unless we recover money for you.
The Arizona Statute of Limitations for a lawsuit for a car accident is 2 years so it's best not to delay. Additionally, it's important to contact an accident lawyer right away so that evidence that can support your case is not lost. Call us now to get a free case evaluation and to find out what your legal options are. The call is free and without any obligation at all.
Car Accident Resources:
Arizona Car Accident Liability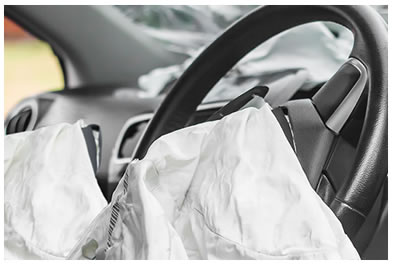 You can prove the defendant was liable for the accident by showing that he or she was negligent. If a distracted defendant ignored a traffic law, for example, the court will most likely determine he or she is liable. Arizona courts follow the comparative negligence rule. It gives the court the ability to adjust compensation depending on how much each party is at fault.
For example, if the court determines that you are 20% responsible for the accident, it will reduce your compensation by 20%. Many states have laws that require the defendant to be more than 50% responsible for you to receive compensation. In Arizona, however, you can receive compensation even if the court determines that you hold a higher percentage of the blame than the defendant.
What is the Statute of Limitations in an Arizona Car Accident Case?
A statute of limitations is a deadline by which claimants must file their cases, or else (in most cases) lose the right to seek damages. The Arizona courts enforce statutes of limitations to protect defendants from unreasonably drawn-out accident claims. If you sustain injuries in a car accident, you must take prompt action against the at-fault party if you wish to file a lawsuit. You have two years from the date of your accident, or from the date you discover your injuries, to file a personal injury claim in Arizona. The two-year deadline also applies to property-damage-only claims.
Don't wait until the end of your filing window to bring a car accident claim. This could put your claim at risk of missing an important deadline. Timely filing can help your case by ensuring the preservation of key evidence. It can also protect you if you have a stricter deadline; if you bring a claim against the government, for instance, you must file your initial notice within just 180 days of suffering the injury. The sooner you speak to an experienced Phoenix personal injury lawyer about your case, the better.
What Potential Damages Can be Recovered After an Arizona Car Accident?
If you win your personal injury case, the court may award you a certain amount of damages.
Compensatory Damages
The first type of compensatory damages are any medical expenses, including the cost of hospital bills, surgeries, physical therapy, or any other fees you have because of medical attention you needed because of the accident. Along with bodily injury, the court could also order the defendant to compensate you for property damage. If your car incurred damages, the defendant may be liable for repairing or replacing your vehicle. If the accident affected your quality of life, the court may award you damages for pain and suffering.
To show pain and suffering, an experienced Phoenix car accident attorney may have people testify who can provide statements about your overall state of being before and after the accident. Another type of compensatory damages that the court may award you are for lost wages, covering the money that you lost because of days you needed off work. The defendant also may need to compensate you for a difference in earning potential if the injury prevents you from being able to earn a salary as high as before the accident.
Punitive Damages
Depending on the nature of the defendant's actions, punitive damages may be awarded to the plaintiff. Punitive damages are awarded to the injured person as a way to "punish" the defendant for his or her intentional misconduct that demonstrated a disregard for the health and safety of others or misconduct that is particularly outrageous. Punitive damages are rarely awarded.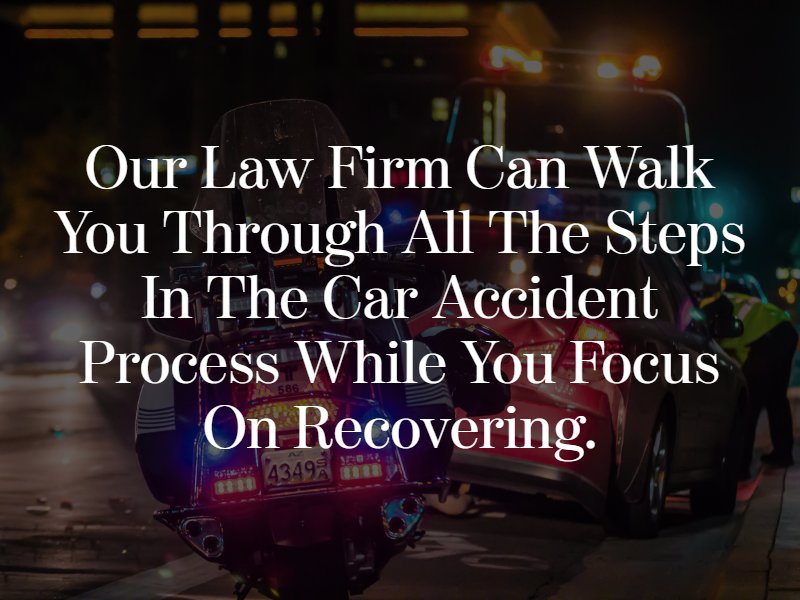 What Should I Do After a Car Accident in Phoenix?
A car accident can be very stressful for any of the parties involved. While it can be difficult, it is best to keep calm and follow a logical course of action. Immediately following a car accident, you should:
Seek medical treatment. Above everything else, your health is the most important. You should check on the safety of everyone involved in the accident and call for an ambulance. If you do not need immediate medical treatment, you should still visit the emergency room or your doctor afterward. Many damages from car crashes can be hard to recognize.
Gather photos and information. If you can stay on the accident scene, it is important to take pictures of the accident. You will also want to trade auto insurance information with the other parties involved. Collect any contact information for potential witnesses. As crash sites do not last long, having evidence of what the area looked like will help your case.
Get a copy of the accident report. In addition to your own account of the case, the accident report will provide key information. You can contact the Arizona Department of Public Safety to request a copy of the report.
Consult a Phoenix car accident attorney. Personal injury cases have short statutes of limitations. If you hesitate to contact an attorney, you may miss your deadline to file an injury claim to recover damages. A fast-acting investigation also helps with gathering relevant evidence and witness reports. Call auto accident injury lawyers with significant experience for a free consultation about your case. A motor vehicle accident lawyer in Phoenix has the experienced to help you deal with the auto insurance claims process and potential settlement offers.
With a skilled car accident attorney by your side, you can have confidence in the direction of your case and focus on recovery.
When Should I Contact a Phoenix Car Accident Lawyer?
Not all auto accidents will turn into lawsuits. If your crash resulted in serious injuries, such as broken bones, spinal cord injuries, whiplash, brain trauma, or the wrongful death of a loved one, you likely have grounds for legal action. A lawsuit can be the best way to obtain the compensation you deserve after a serious wreck. Recovering damages can help you rebuild your life. You should talk to experienced Phoenix car lawyers in Arizona if you're recovering from catastrophic injuries, such as those that result in permanent scars or disabilities – or if you simply want advice about your specific case.
A car accident attorney in Phoenix can help injured parties in the following ways:
Preserve and gather key evidence from the scene of the accident
Collect evidence such as police reports, cell phone record, and medical records
Interview eyewitnesses for statements
Build a case against the at-fault driver or manufacturer responsible for defective parts
Take care of legal services such as accident claims filing
Meet all applicable deadlines and filing requirements
Estimate the potential value of your injury claims
Negotiate with insurance companies for higher settlements
Take your case to court if necessary for maximum compensation
Recover expenses, such as lost wages and medical expenses
When in doubt, contact a Phoenix car accident injury lawyer following an accident in Arizona. You won't lose anything by discussing your recent crash during a free, no-obligation consultation with an attorney. A lawyer can open your eyes to the various legal possibilities, including your rights, following a serious accident. You may be eligible for significant compensation for someone else's negligence or recklessness.
Timeline of a Car Accident Case in Arizona

Arizona auto collision cases vary widely in scope and severity. In many cases, car accident victims can expect extensive medical expenses, property damage, and long roads to recovery. Since the expenses associated with motor vehicle accidents can add up, it's natural to wonder how long auto accident victims will have to wait to receive fair compensation for their injuries. The timeline of a car accident claim will depend on several factors. In cases where liability is clear, victims can generally expect speedier settlements. Accidents involving multiple parties or comparative negligence, by contrast, may influence the length of time it takes to settle.
What Factors Influence a Car Accident Timeline?
The ultimate length of a car accident claim may rely on several key aspects. Some elements that could affect the timeline include:
A defendant's willingness to accept liability for an accident – specifically, his or her insurance company's willingness to do so.
Whether or not a case goes to trial, which can lead to more lengthy legal procedures.
The extent of a plaintiff's injuries, as well as how long it takes to recover from them. This especially applies to accidents involving catastrophic or permanently disabling injuries.
How willing both parties are to settle a claim without the need for a trial.
Unfortunately, some insurance companies will refuse to accept liability for an accident altogether, which could necessitate a longer trial. In others, insurance companies will accept liability for an accident, but argue about the amount owed to a plaintiff. Most car accident cases settle without the need for a trial. However, victims often need qualified Phoenix car accident attorneys to negotiate aggressively on their behalf and demand fair compensation for their injuries, pain, loss, and suffering. Should these negotiations not lead to a fair settlement, then a car accident lawyer may try alternative dispute resolutions such as mediation or taking a case to trial.
Arizona Car Accident FAQs

What Should I Do If the Other Driver's Insurance Company Asks Me Questions?
You may receive a call from the other driver's insurance company after your accident. The adjuster might ask you for a recorded statement or even make an offer to settle. These calls can occur within days or even hours of your accident. It is best not to give a recorded statement, especially while you are emotionally vulnerable. You also do not want to accept any settlement offers without discussing them first with your car crash attorney. You should decline to speak with the adjuster. Instead, you can refer the adjuster to your car accident lawyer.
What Happens When the At-Fault Driver Doesn't Have Enough Insurance?
Arizona law requires all drivers to have minimum liability insurance policy, no matter what types of vehicles they have. Even so, many drivers do not have the right amount of insurance coverage. You can then file an uninsured motorist or underinsured motorist claim. An experienced Phoenix car accident attorney can help you determine your best course of action.
What are the Statistics?
In 2017, there were more than 127,000 vehicle crashes in Arizona; 919 individuals died because of those crashes in the same year, making Arizona one of the highest states in terms of automobile fatalities. The total annual number of accidents has been steadily increasing since 2012. According to Arizona accident statistics, Drunk drivers caused 26.3% of fatal Arizona crashes. Approximately 2.74 persons were killed each day in Arizona in fatal crashes, which equals roughly one death every 8 hours and 46 minutes.
Why Do Car Accidents Happen?
Many causes for automobile accidents exist and most of them are the result of driver negligence. Many people do not treat getting behind the wheel with the attention it deserves, which can have dangerous consequences. Common causes of a car crash include:
Driving under the influence of drugs or alcohol
Failing to abide by traffic laws
Bad weather conditions
Driving over the speed limit, including driving faster than is safe for road conditions
Car malfunctions
Defective brakes or parts
Dangerous roadway conditions
Ill, fatigued, or physically impaired drivers
Improper vehicle maintenance
Distracted driving
In many cases, proper awareness of road rules and safe driving habits can significantly decrease the risk for auto accidents, including truck accidents and motorcycle collisions. Whenever drivers fail to follow proper driving practices, such as the actions listed above, they then are guilty of negligence. Any of these negligent acts are usable during a personal injury or property damage car accident claim.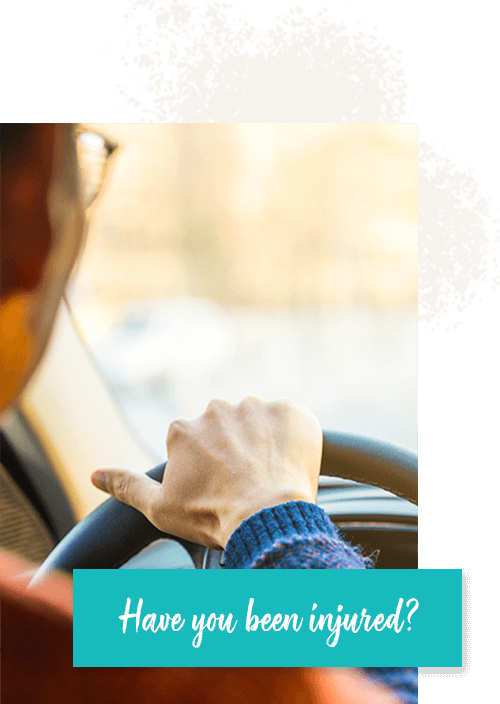 Most Common Types of Car Accidents
Car accidents may occur under any range of scenarios, leading to injuries of varying degrees and severity. Each car accident case is unique, but may generally fall into one of several categories.
Rear-End Accidents
One of the most common is a rear-end accident. Some people erroneously equate rear-end collisions with "fender benders," but our Phoenix rear-end accident attorneys know these accidents can be very serious. Sudden changes in speed can lead to rear-end collisions, especially when one of the drivers is not paying attention to the road. Motorists may incur injuries such as fractures, soft tissue injuries, whiplash, concussions, and trauma to the spinal cord and require urgent medical care.
Side-Impact Collisions
Side-impact accidents are also common. Collisions on the side, known to many as T-bones or broadside collisions, occur when a driver going forward or backward hits the side of another car. Broadside collisions typically result from a negligent party running a red light or failing to assure a safe distance before turning. The consequences of these accidents can be catastrophic, especially without modern safety features like side impact airbags. They can cause serious injuries, especially to the person on the side the driver hit. Any of these types of collisions can cause significant:
Head and brain injury
Spinal cord injury
Chest injuries – such as flail chest or stove-in chest
Broken bones
Crushing injuries
Whiplash
And even wrongful death
Head-on Collisions
Head-on collisions are often deemed the most severe. Since they often occur at high speeds or as the consequence of drunk or distracted driving, head-on collisions can be very serious. Victims may sustain permanently disabling or catastrophic injuries, such as traumatic brain injuries or conditions leading to paralysis.
Hit and Run Accidents
Hit and runs are another type of crash that can complicate a lawsuit. After a car collision, some drivers may panic and flee; this is a hit-and-run accident. The penalties are more severe than for most car accidents. In hit-and-run accidents, one of the drivers leaves the scene before providing any identification or contact information. Even if you are not responsible for the accident, leaving the scene may constitute a hit-and-run charge. Courts consider hit-and-runs felonies or misdemeanors and impose serious fines.
Car Crashes Involving Multiple Vehicles
Multi-vehicle accidents are not only serious but can be legally complex. Victims of these accidents often require an experienced car accident lawyer's help to determine liability for a crash and demand compensation from the parties responsible.
Accidents with a Drunk Driver
Drunk driving accidents often occur at high speeds and without evasive maneuver to prevent a crash. As a result, they can lead to serious injuries or wrongful death. If you lost a loved one in drunk driving accident, speak with a Phoenix wrongful death lawyer about recoverable damages in Arizona.
Driver Smartphone Use
Arizona has fewer cell phone laws than most other states. Still, distracted driving could constitute negligence in an auto collision, and injured motorists can pursue damages against the parties responsible with the help of a Phoenix texting and driving accident lawyer. However, it is a recurring discussion amongst state lawmakers.
Wrong-Way Collisions
300 to 400 people die each year in the United States due to wrong-way collisions. Wrong-way accidents are more likely to cause serious or disabling injuries for accident victims.
Why Choose Begam Marks & Traulsen, P.A.?
We aren't your average Phoenix auto accident law firm. Our legal team has worked hard to secure outstanding settlements and verdicts for past clients, collecting hundreds of millions of dollars throughout our careers. Our Phoenix car accident injury lawyers have been in the business of helping accident and injury victims for years. We have the experience you need for a strong car collision case. Plus, you get all our services at no cost unless we win you a monetary award. If we do win, we deduct our attorneys' fees out of your settlement or judgment, so you never pay out of pocket.

Whether you're in the hospital nursing severe auto accident injuries, are curious about a wrongful death lawsuit, or just have a few questions after a fender bender, we can help. Our car accident lawyers in Phoenix are available to discuss potential accident claims around the clock. No matter how overwhelming your accident may feel, we care.
Our law firm can walk you through all the steps in the car accident process while you focus on recovering. From managing your medical bills to taking over conversations with insurance claims adjusters, our law firm does it all for our clients. We prioritize your wants and needs and will do everything we can to get you fair compensation for the injuries you have suffered. Let us help you and your family during this difficult time. Contact us to schedule a free case evaluation with our experienced car accident attorneys in Maricopa County.
---
Client Review:
"Stan Marks and all of the staff at Begam Marks and Traulsen were professional, efficient and so very caring during a very difficult time. They worked hard on my case and achieved an outcome that surpassed any expectations." -Amber