When Doctors Commit Malpractice, We Seek to Hold Them Fully Accountable for All Harm that Results
We place a great deal of trust in doctors, nurses, and other medical professionals.  When we see a healthcare provider, we expect them to provide the same high level of care as others in the medical community would provide. Unfortunately, the level of care and treatment provided is sometimes substandard.
In determining whether negligence or medical malpractice has occurred, it's important to first understand the level of care required.  In general, healthcare providers are all held to the standard of care in their treatment of patients based upon how other members of their profession would normally act under similar circumstances. If healthcare providers fail to meet this standard of care, they may be found to have been negligent. Consequently, the healthcare provider will be liable for malpractice. If you have been a victim of medical malpractice in Arizona, contact our Phoenix medical malpractice lawyers today.
Common Types of Medical Malpractice and Doctor Negligence
Medical malpractice covers more than just the care provided by doctors. It additionally includes all professionals who provide medical care and treatment, such as physician assistants, nurses, nurse practitioners, hospital staff, nursing home staff, and even pharmacists.
Medical malpractice comes in many forms. It may result from the negligence of doctors who fail to diagnose a disease such as a heart condition or cancer, which can have deadly results. Or it may result from surgical errors, such as improperly clamping an artery or leaving a surgical sponge in a patient's body.
Our Phoenix medical malpractice attorneys represent patients injured by all types of medical negligence, including:
Physician malpractice
Nursing malpractice
Misdiagnosis
Nursing home abuse or neglect
Delayed diagnosis
Pharmacy errors
Surgical errors
Anesthesia errors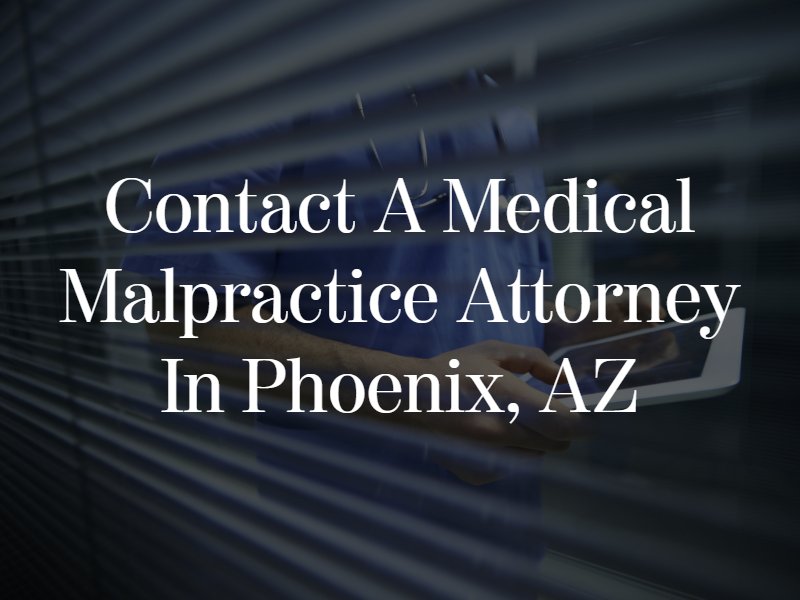 Litigating a Medical Malpractice Claim in Arizona
Medical malpractice claims are often complex. Malpractice claims almost always require the testimony of experts to establish the standard of care in the medical community and to show that the doctor or healthcare provider breached that standard.
Physicians and other healthcare providers, and the companies who insure physicians and healthcare providers, almost always vigorously contest assertions against them for malpractice.  Malpractice claims not only directly call into question their professional ability, but losing a case can mean future high premiums and have other employment consequences.  As a result, defendants will usually hire their own experts. They aim to take all actions possible in defending the claims against them.
Medical Error and Malpractice Statistics
A study by researchers at Johns Hopkins Medicine estimates more than 250,000 Americans die each year from medical errors.  That number of deaths is behind heart disease and cancer, which each took about 600,000 lives in 2014, but in front of respiratory disease, which caused about 150,000 deaths.  The Johns Hopkins study says the kinds of medical mistakes that can lead to death range from surgical complications that go unrecognized to mix-ups with the doses or types of medications patients receive.  The study did not investigate the number of Americans with serious injuries related to medical errors and negligence.
In fact, no one knows the true number of deaths caused by medical malpractice. Deaths may be even higher than the current estimates, because of the vast underrecognition of the place of medical care as the cause of death. The authors, led by Johns Hopkins surgeon Dr. Martin Makary, call for changes in death certificates to better tabulate fatal lapses in care. In an open letter, they urge the Centers for Disease Control and Prevention to immediately add medical errors to its annual list reporting the top causes of death.
Our Medical Malpractice Lawyers in Phoenix Can Help
We take on tough medical malpractice cases where we believe our medical malpractice lawyers can make a difference. To find out more about our medical malpractice liability practice, please contact us today. Our Phoenix injury attorneys want to help you secure the compensation you deserve.