Losing a loved one is an extremely painful experience. It can be even more difficult, however, if he or she died because of another person or organization's negligent behavior. Just as the law holds negligent parties accountable for serious injury they cause to another person, it also holds them accountable for causing an accidental death.
If you lost a loved one and you believe another person is responsible, you may be eligible to file a wrongful death claim. Contact the Phoenix wrongful death attorneys at Begam Marks & Traulsen, P.A., for more information about wrongful death claims in Arizona. Free consultations at (602) 254-6071.
Wrongful Death Resources:
Who Can File a Wrongful Death Claim in Arizona?
Wrongful death lawsuits are more complicated than other personal injury cases, as the victim cannot advocate for him or herself. Each state has different laws about who has the right to file a wrongful death claim. Arizona law outlines specific people who can file a claim; they are:
The deceased's surviving spouse
A personal representative of the deceased's surviving spouse, child, parent, or guardian
The deceased's children
The deceased's surviving parents or legal guardians
A personal representative of the deceased person's estate
If the victim was a child, Arizona courts allow either the parents or legal guardian to file a wrongful death claim. The surviving relative also must initiate the wrongful death suit within a certain period, legally known as the statute of limitations. In Arizona, the statute of limitations for wrongful death is two years from the date of death. Although two years may seem like a long window, people who are coping with the grief of losing a loved one are often overwhelmed. It is important, therefore, to have an experienced, compassionate Phoenix personal injury lawyer guiding you through the process.
What are the Potential Damages for Arizona Wrongful Death Claims?
If you win your wrongful death claim, you may receive compensation for various aspects of the case. Unlike other personal injury cases that focus on making up for the victim's injuries, wrongful death damages focus on helping loved ones move on without the financial support or companionship of the deceased.
Estate Damages
The first set of damages goes to the deceased person's estate. Medical expenses are a foundational type of damage in any personal injury case. Medical bills in wrongful death cases include the cost of medical procedures or attempted treatment before the victim died. Compensation often includes funeral expenses and burial costs.
The court may also award the estate damages for the value of lost wages, future earnings, and benefits that the deceased person would have earned if he or she were still alive, repairs or replacement of property damaged in the incident, and pain and suffering the deceased person experienced before he or she died.
Family Compensation
The court awards the second category of wrongful death damages to the family. The courts intend these damages to make up for the emotional loss of a loved one. In these cases, there is no specific amount for the court to use in assigning compensation. The defendant may need to compensate the family for the loss of care, companionship, and guidance the deceased person would have provided if he or she was still alive. Damages could also include pain and suffering that the family experienced because of the wrongful death and the loss of household services.
In some cases, punitive damages may also be awarded to a family. Punitive damages are awarded with the intention of punishing the party responsible for the wanton conduct or wrongful act that resulted in wrongful death.
The family is responsible for deciding how to divide the compensation between each family member. If they are unable to decide how to divide it, the court will decide. The court usually bases the decision on those the death affected the most. For example, the court would most likely award the spouse or children of the deceased more in damages than other family members because the impact of the death would affect them more than other family members.
Additionally, whoever pursues a claim can only receive compensation for the factors that affect him or her. For example, if the representative of the estate filed the claim, he or she cannot receive the emotional damages focused on making up for lost companionship or love.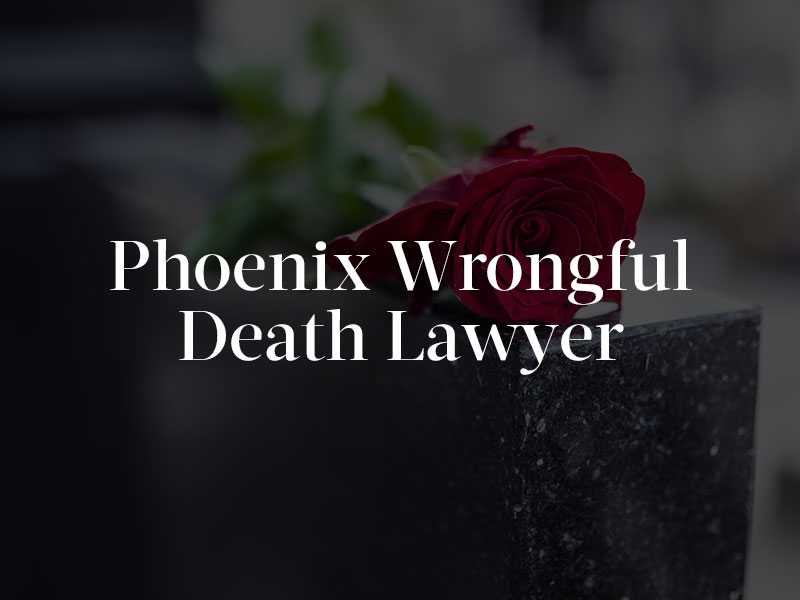 Types of Wrongful Death Cases We Accept
While we can never fully make up for the loss of your loved ones, our Phoenix personal injury lawyers can help you and your family in seeking full financial compensation from all those responsible for your loved one's death.  We accept wrongful death cases arising from the following fatal accidents:
Car accidents
Drunk driver accidents
Semi-truck and commercial trucking accidents
Defective product accidents
Chemical exposure
Motorcycle accidents
Dangerous premises accidents
Dangerous highway accidents
Train and railroad accidents
Aviation accidents
All types of medical malpractice
Nursing home abuse or neglect
Birth injuries
Construction accidents
Burn accidents, including fires and explosions.
How do I File a Wrongful Death Claim in Arizona?
Filing a wrongful death claim in Arizona requires adhering to certain rules and requirements. Otherwise, you could lose the chance to secure compensation to help heal after a loved one's passing. One of the most important rules to know is the statute of limitations, which is two years from the date of your loved one's death. To file a wrongful death claim, you must follow these general steps:
Know your deadline. Do not miss your deadline to file. Understand when this deadline falls and start taking steps toward compensation right away. If you're unsure of your deadline, ask a qualified wrongful death attorney for more information.
Gather evidence. If you believe you have grounds for a wrongful death claim, start documenting the facts of your loved one's passing. This includes where the incident happened, what his or her injuries were, and who you think might have contributed.
Go to the correct civil court. You will need to file your claim with the civil claims court in the county where the death occurred. Talk to the county clerk and find out which documents you will need to file to start a claim.
Talk to a qualified Phoenix wrongful death lawyer at any step in the wrongful death claims process. The sooner you talk to a lawyer about your potential claim, the easier it will be to file your claim. A Phoenix wrongful death lawyer can help you understand what to do and what not to do during the claims process in Arizona.
Elements of a Wrongful Death Lawsuit
No two wrongful death claims are the same, but all follow the same basic outlines. This includes the elements a claimant needs to bring and win a wrongful death case in Arizona. The courts require three basic elements to award a plaintiff compensation for the death of a family member. They are:
A death. This may seem obvious, but you can't pursue wrongful death damages if the person in question survived the accident. If your loved one is still alive, consider filing a personal injury claim in Arizona instead.
Someone else's negligence. Your loved one must have suffered his or her harm because of the negligence of another person. A drunk driver, incompetent physician, or violent criminal are all examples of defendants who could be legally responsible.
Surviving family members. As listed previously, in Arizona, a surviving spouse, child, or parent can file a wrongful death claim – or a representative of one of these parties. If there aren't surviving family members who suffered monetary damage because of a death, there might not be grounds for a lawsuit.
The courts must also appoint a personal representative for the deceased person's estate. This may happen during probate court if the decedent didn't name a representative in a will. You will need proof of someone else's negligence to have grounds for a claim. Talk to a Phoenix wrongful death lawyer as soon as you think you have the elements of a case for more information.
When Should I Contact a Phoenix Wrongful Death Attorney?
It's never the wrong time to contact a Phoenix wrongful death attorney. As soon as you feel the need to talk to someone about the unexpected passing of your loved one, or to seek justice for a death you know someone should have prevented, call Begam Marks & Traulsen, P.A. The duty of a wrongful death lawyer is to inform surviving loved ones of their rights and legal opportunities, as well as to talk them through the steps and legal actions involved in a wrongful death case, including handling the insurance company. Talking to a lawyer right away can help keep your case on track for success.

If you lost a loved one because of an unfair cause in Arizona, speak with our Phoenix wrongful death attorneys today. We understand that before retaining a law firm, you will want to meet the lawyers and understand the diligence, dedication, and effort that they will put in for your case, and also learn about their experience and success in injury and wrongful death matters.
Why You Should Choose Begam Marks & Traulsen, P.A.
Begam Marks & Traulsen, P.A. is a top choice for wrongful death claim representation in Phoenix. We've secured millions of dollars for personal injury and wrongful death clients in the past and may be able to do the same for you. We're passionate about helping families and loved ones left behind after negligence-related accidents in Phoenix. We put our client's needs first and provide compassionate guidance and advice. Our team works hard day and night on behalf of our clients.
The attorneys at Begam Marks & Traulsen, P.A., have more than 60 years of experience helping Phoenix residents recover from tragic incidents.  As our law firm accepts injury and wrongful death cases on a contingency basis, there is no fee for us unless we are successful in obtaining compensation for you. Contact our lawyers at Begam Marks & Traulsen, P.A., for dedicated and experienced representation in your Phoenix wrongful death claim. Call now to schedule your free consultation.